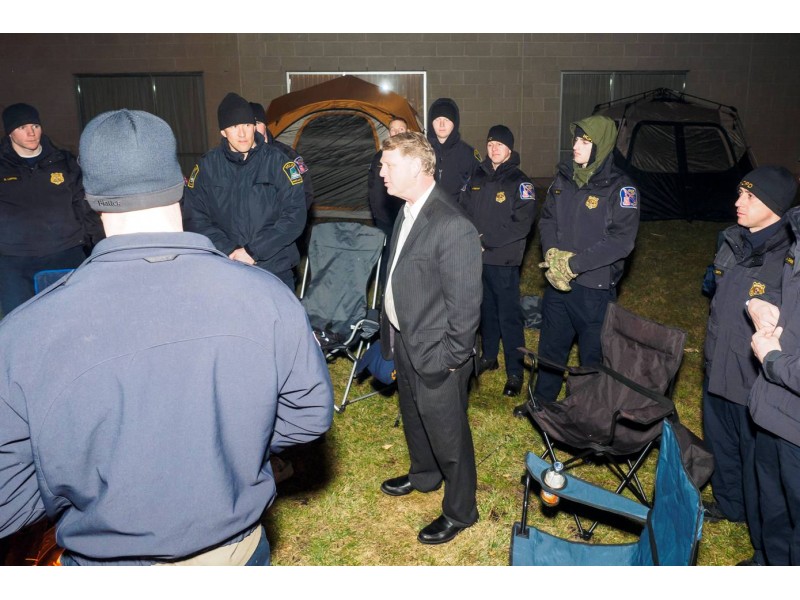 The Howard County Police Department's Academy Class 39 recently experienced what it is like to be without a roof over your head in Howard County in winter. The 22 recruits spend the night outside in the cold, rain and snow as a project to help Grassroots, Howard County's 24-hour crisis intervention center and homeless shelter.
The idea was Chief Gary Gardner's. As part of their training, he called upon the recruits to help a local organization in need of assistance. A "Sleep Out to End Homelessness" was the result. The recruits served and shared dinner with the people staying the night at the Cold Weather Shelter at Glen Mar United Methodist Church and then spent the night outside in recognition of those who lack a place to live. After a very wintery night, the recruits helped serve breakfast to the shelter guests before leaving.
During the evening, the recruits were visited by Maggiano's restaurant, which provided the dinner meal for the recruits, church volunteers and the guests, as well as Chief Gardner, Grassroots Executive Director Andrea Ingram and County Executive Allan Kittleman, who stopped by when recruits were setting up to spend the night outside.
Prior to the overnight exercise, Academy Class 39 collected supplies and donations for Grassroots. They expect to raise $10,000 for the local crisis intervention center, which often works directly with police officers dealing with crisis situations in Howard County. Donations are still being accepted at grassroots.hocomojo.org.
Listen to 99.1's Cam Thompson describe the event on WNEW.