September 11, 2022




12:30 pm - 3:30 pm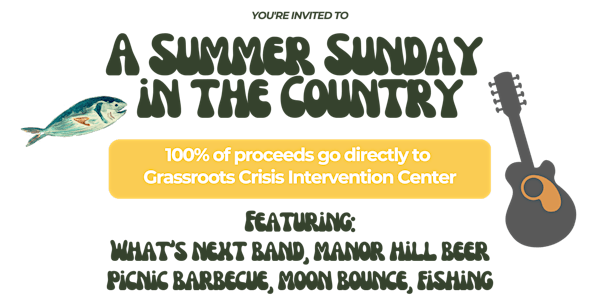 All are welcome to enjoy "A Summer Sunday in the Country," a fundraiser for Grassroots Crisis Intervention Center, on Sunday, Sept. 11, from 12:30 – 3:30 p.m., at the Kittleman Family Farm in West Friendship.
The benefit will include a picnic barbecue, hand-craft beer from Manor Hill Brewery and live music by party band What's Next. Outdoor games, Cornhole competition, a Moon Bounce, fishing contest and other activities for children and adults will be featured.
"Our family is proud to host a benefit for Grassroots, which gives families a chance at a better life," said Lisa Kittleman, who serves on the agency's Board of Directors and is a Partner alongside her mom in The Kittleman Group Realtors.
Sponsorships for "A Summer Sunday in the Country" are available at $1,000 for Gold, $500 for Silver and $250 for Bronze, and include a family pass to the picnic barbecue, including beer, and activities. Individual admission is $50 per person. Sponsorships or individual tickets can be purchased through this Eventbrite.
All of the proceeds from "A Summer Sunday in the Country" go to fund Grassroots services. During the last year, Grassroots served 499 people in its shelter programs and 837 individuals at the Grassroots Day Resource Center, answered 58,429 calls on its Hotline, and provided 2,324 face-to-face counseling sessions. The Mobile Crisis Team provided 1,023 community responses, and 502 clients were enrolled in a Substance Use Crisis Stabilization Program.